Ask a town administrator: Marblehead, Massachusetts' Jason Silva
Jason Silva shares preservation, sustainability and transportation initiatives, and his biggest challenge.
---
Take just one look at the quaint, historic streets of Marblehead, Massachusetts, and you'll know you've entered some place special. It may be on the small side – home to just shy of 20,000 residents – but that certainly hasn't stopped this coastal community from becoming one of the preeminent travel destinations in the state.
And as Town Administrator Jason Silva explains, it's also on the forefront of safety and sustainability initiatives that will keep the community vibrant well into the future.
Marblehead, Massachusetts, Town Administrator Jason Silva recently sat down with Gov1 to discuss managing an historically significant town on New England's coast. Here's what he had to share about his year and a half in office.  
EfficientGov: Are you from Marblehead originally?
Silva: No, I was born and raised in Beverly and live there now.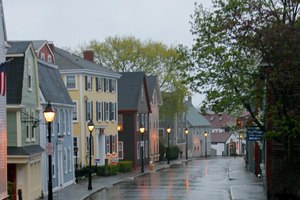 I understand Marblehead and Beverly have a rivalry over which municipality is the birthplace of the American Navy. How do you diplomatically handle the "controversy" when it comes up?
Silva: This is a question I'm often asked by Marbleheaders. When I can get away with it, I respond with a smirk and a "no comment." But I think one native explained it best when they said to me, "Marblehead birthed the Navy; Beverly berthed the Navy."
Joking aside, one of the great pleasures of being town administrator in Marblehead is the town's rich history. It is an honor to work in the same town that General John Glover hailed from – a hero who played a critical role in the Revolutionary War – not to mention a town that has been an important fishing port since the 1600s. I also get to go to work every day in the Selectmen's office in Abbot Hall and attend meetings in the Selectmen's Room adorned with Archibald Willard's famous painting "The Spirit of '76."
But what is most impressive to me is how deeply the town respects and honors its past and continues to invest to preserve it.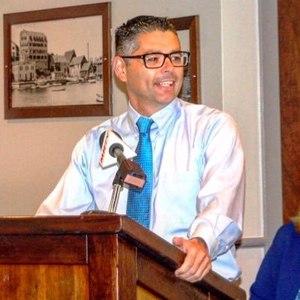 What did you do before becoming Marblehead's town administrator?
Silva: Before coming to Marblehead, I served in several roles at the state and local levels of government and in the non-profit sector. I had the good fortune to serve as chief of staff to the Mayor of Salem, Kim Driscoll, which was my introduction to municipal government. During that time, I was also elected to the city council in my hometown of Beverly and served for three terms. At the state level, I was chief of staff to State Senator Joan Lovely and I had the opportunity to serve as executive director of the Salem YMCA.
What does your current role entail?
Silva: Every day is a different day as town administrator. Generally speaking, the town administrator, under the direction of the Board of Selectmen, is responsible for managing the day-to-day operations of town government, personnel, and financial management and budget preparation. In addition, I frequently interface with members of the public to resolve issues or concerns.
I see my job falling into three major buckets:
Ensuring the efficient and effective operations of town services
Ensuring the long-term financial stability of the town
Interacting with volunteer boards and committees, and the public at-large, for the betterment of the town
What are some of the greatest challenges you face?
Silva: The greatest challenge serving as town administrator is balancing the proper management and delivery of important town-wide services while also ensuring the long-term financial stability of the community.
What are some of your greatest successes?
Silva: The successes of the Town of Marblehead since my arrival are hardly my own. We have a strong team, with strong leadership from the Board of Selectmen, which has made all of our achievements possible.
The town has embarked on many projects and initiatives during my time in Marblehead, and it's an honor to be part of the team to make these things possible. 
What sort of initiatives have you implemented?
Silva: The town has taken great steps to preserve its historic assets through the ongoing project to renovate Abbot Hall, originally constructed in 1876, which today is home to the Selectmen's Office, Town Clerk and the Historic Commission; and an upcoming restoration project to preserve Fort Sewall, an historic coastal fortification in Marblehead, first established in 1644.
We've also jumpstarted initiatives to promote sustainability by working with the state's Office of Coastal Zone Management and the Metropolitan Area Planning Council to model and assess the impacts of future sea level rise due to climate change, and develop a sustainability plan and visioning document, respectively.
The town has also been the fortunate recipient of grants to support our first purchase of an electric vehicle and for the installation of electric vehicle charging stations.
Lastly, transportation improvements have been on the agenda throughout the community in order to achieve a Complete Streets designation. Complete Streets is a program that encourages safe streets and transportation infrastructure for all modes of travel – cyclists, pedestrians and vehicles. This designation positions the town well for future grant opportunities and project implementation. We're also in the process of redesigning our local rail trail and reconfiguring a major intersection in town, again, thanks to a strong partnership with state agencies.
What should those entering the town/city administrator field know about the position?
The position is constantly challenging, interesting and rewarding.  As I mentioned earlier, the days are never the same. Every day, I am grateful for being able to do a job that I love in such an amazing community.  
Learn more about Marblehead's passion for historic preservation.