Ohio police chief: Community help needed to drive change in policing
In her fourth month as chief, Elaine Bryant is setting community expectations and goals to tackle rising violence
---
By Bethany Bruner
The Columbus Dispatch
COLUMBUS, Ohio — In five years, Columbus police Chief Elaine Bryant said she hopes she can call this one of the safest cities in America, where crime is down and the community and police are engaged with one another.
But there is plenty of work to be done for those hopes to become realities.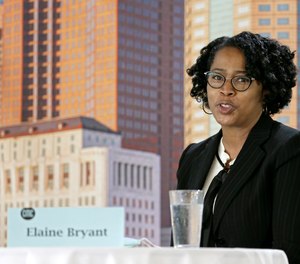 Bryant, who is now in her fourth month as chief, spoke Wednesday afternoon at the Columbus Metropolitan Club in a discussion moderated by Dispatch managing editor Kelly Lecker.
The conversation touched on everything from defunding the police to the violence plaguing the city, including a homicide total that is nearing record-breaking numbers for the second year in a row.
How Columbus police see community buy-in happening
The overarching theme from Bryant was that the Columbus Division of Police won't be able to tackle all of the issues at once or overnight — and there has to be community buy-in for it to happen.
"It's an entire community that is moving forward and driving that change," Bryant said. "It's absolutely the time to move forward to take this division to the next level. It's absolutely doable and we're going to do it."
[RELATED: How moving from 'us' and 'them' to 'we' results in more effective policing]
Bryant said she and Assistant Chief LaShanna Potts, who both hail from the Detroit Police Department, are still learning about the police division and working to audit and review its processes to make sure resources are allocated appropriately and proper supervision is in place.
But Bryant said she is hoping to get some new programs off the ground soon. She said she has spoken with Columbus City Schools Superintendent Talisa Dixon about engaging with students in the fifth, sixth and seventh grades to begin mentorship programs, as well as other youth programming to help prevent students from taking the wrong path.
How Columbus police plan to increase diversity in recruiting
Another goal is increasing diversity in recruiting, including recruiting more potential officers who grew up in Columbus and want to help improve their city. An audit of the city's hiring process for police officers is ongoing, but Bryant said hiring is only part of the solution.
"What you don't want to do is exclude certain people from being on (the job) and make (recruiting) be about something it shouldn't be about," she said. "There are officers who passed everything and they're locked up now. It can't just be about one or two checklists. These officers have to be supervised properly. They have to be audited internally to make sure they're doing the right things."
Bryant was referencing the arrests of Columbus police narcotics officers Marco Merino and John Kotchkoski last week on federal charges accusing them of trafficking fentanyl and cocaine.
All of the efforts Bryant is undertaking have the goal of helping to bridge the gap between the community and police, rebuilding trust that has been broken in the wake of the police division's handling of protests Downtown during late May and June 2020 in response to the murder of George Floyd Jr. by former Minneapolis police officer Derek Chauvin on May 25, 2020, multiple fatal police shootings involving unarmed Black men, and a history of racial bias highlighted in a report released by the Matrix Consulting Group in 2019.
[RELATED: Minority applicants share their experiences during the police recruitment process]
Bryant said she also hopes to increase the division's chaplain corps to help victims and officers deal with the trauma they have experienced, as well as improving technology to better address crime in real-time.
Bryant said she knows she will be succeeding when the community is safe, meaning less crime of all kinds and more community members engaged with police and each other.
"You should be able to sit on your porch and not worry about someone accosting you," she said. "Your child should be able to ride their bike in the street and you shouldn't have to worry about a drag racer running them over. You should be able to walk to the corner store and not worry about stray bullets."
©2021 www.dispatch.com. Visit dispatch.com. Distributed by Tribune Content Agency, LLC.
McClatchy-Tribune News Service