Spotlight: GreenKey technology aims to improve police accountability and transparency
The company's goal is to increase the number of positive interactions between LEOs and civilians by improving officer training
---
Company name: GreenKey
Headquarters: Chicago
Signature Product: Body camera analytics
Website: https://greenkeytech.com/
1. Where did your company name originate from?
Our founder named after an island.
2. What was the inspiration behind starting your company?
GK unlocks conversations to improve human behavior.
3. What is your signature product and how does it work?
Body Camera Analytics. GreenKey generates a daily and monthly set of reports/dashboards for elected officials and police to review. Ultimately, our goal is to increase the number of positive interactions that police/civilians have and improve officer training.
GreenKey's software can also reduce your cloud storage costs significantly by flagging low risk (ie: routine traffic stops) BWC files. From there, you can decide whether you would like to replace these files with smaller versions/transcripts after your non-evidentiary retention period has passed.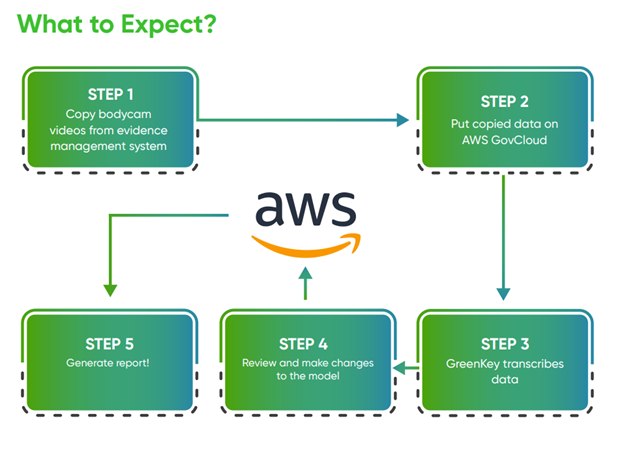 4. Why do you believe your products are essential to the government community?
Less than 0.1% of police body camera video files are ever reviewed. There is simply too much data for a human to review. However, this data contains valuable insights that can be used to generate police performance metrics. Wearing body cameras alone is not enough. The audio data can be analyzed by natural language processing to increase transparency and trust in the police.
Police body camera analytics answer questions like:
What percentage of police interactions are respectful?
What percentage of police interactions are successfully de-escalated?
What is the overall public sentiment of the police department?
5. What has been the biggest challenge your company has faced?
Getting cities to push police to adopt this technology to improve police accountability and transparency. We have finally provided a way to address the public outcry around these topics and cities are still not going forward because of reputational risk. We have already eliminated cost as a factor.
6. What makes your company unique?
No one else is doing anything with this data beyond transcription and using it as evidence. Why are cities paying for BWC without analzing this data to benefit the community? We want to transform policing. At the end of the day, the police are in the customer service business so their interactions with the public should be evaluated the same way as a sales team at a company.
7. What do your customers like best about you and your products?
Our Natural Language Processing (NLP) is already proven by some of the biggest banks in the world. The NLP models are being built by a community of academics, research institutes, and experts in the field of policing. We then provide our full "model library" to cities and police departments to use as the basis for their reporting and risk assignment.
8. What is the most rewarding part of serving the local government community?
We are making a real change in the country as a whole. We have support from advocacy groups, city and state elected officials, and police. This is the future of policing and it is inevitable as more states start to mandate that police wear body cameras. Knowing that we can increase the amount of positive interactions between police and civilians in the U.S. is incredible.
9. Do you support any charitable organizations within public safety or the community?
We have support from several advocacy groups and universities.
10. Is there any fun fact or trivia that you'd like to share about you or your company?
We have created a NLP Platform that allows an Subject Matter Expert (SME) to customize their own NLP model without requiring any coding or data science experience. This was never before possible.
11. What's next for your company? Any upcoming new projects or initiatives?
GreenKey and Amazon have partnered to offer an invite-only, 60-day free trial workshop to a few cities. There is absolutely no cost or obligation. You can process up to 1,500 hours of body camera data. The reports and findings will remain confidential and the sole property of the city. Innovative cities like Seattle, Chicago and D.C. Metro have already accepted their free trials.