Chokehold ban, other police reforms to become law in Missouri
The package also removes a residency requirement for Kansas City police officers
---
By Kurt Erickson
St. Louis Post-Dispatch
JEFFERSON CITY, Mo. — Missouri police officers would be prohibited from using chokeholds to subdue crime suspects under a sweeping package of law enforcement reforms to be signed by Gov. Mike Parson on Wednesday.
The legislation includes the chokehold ban and an initiative that would provide feminine hygiene products such as tampons to female prison inmates.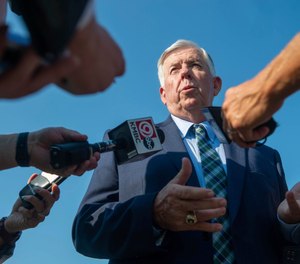 It also bars police from having sexual relations with detainees.
The chokehold ban was originally sponsored by Sen. Brian Williams, D- University City, in the wake of the murder of George Floyd by former Minneapolis police Officer Derek Chauvin.
Missouri is not alone in addressing the way in which Floyd was killed — after Chauvin knelt on his neck for more than nine minutes.
The Brennan Center for Justice said nine states and Washington, D.C., enacted complete bans on chokeholds and other neck restraints, while eight states enacted legislation restricting their use to instances in which officers are legally justified to use deadly force.
Williams earlier said Floyd should still be alive.
"We cannot bring him back, but we can ban police chokeholds to make sure deaths like his do not happen in Missouri. This bill will save Black lives, and its passage is a monumental step forward on an issue that has failed to make progress in Missouri until now," Williams said.
States throughout the country have worked to clarify laws on police use of force in recent years, spurred by the deaths of Black victims at the hands of police.
The package, spread across two different bills, also removes a requirement for Kansas City police to live within the city's borders.
A similar residency requirement for St. Louis police was lifted last year as part of an effort to boost recruiting of officers.
The new laws also require law enforcement to keep a database of incidents involving officers using serious or deadly force. That could help police track officers who quit one department and go to work in another jurisdiction.
Williams said the practice is not uncommon in his Senate district, which covers 35 different municipalities.
"That won't happen with this bill. What this is going to do is put bad officers on notice. The law will give prosecutors the ability to address police who use excessive force," Williams said.
Under the legislation, a person could also be prosecuted for posting personal information online about law enforcement, a corrections or parole officer, a prosecutor or their immediate families with the intent to harm them.
The new laws, which go into effect Aug. 28, also aim to strengthen protections for officers under investigation for inappropriate behavior. It also will penalize Missouri cities that reduce police department budgets.
Williams said he is proud of getting the legislation across the finish line in a Republican-controlled Legislature. The chokehold measure was carried in the Senate by Sen. Tony Luetkemeyer, R- Parkville.
"I'm grateful for the bipartisan effort," he said.
The legislation is Senate Bill 53 and Senate Bill 26.
(c)2021 the St. Louis Post-Dispatch
McClatchy-Tribune News Service