Rising Young Adult Suicide Rates & Suicide Prevention Grants
Learn about the signs of suicide and suicide prevention grants.
---
According to the 2017 Youth Risk Behaviors Survey, 7.4% of students in grades nine through 12 stated they had made at least one suicide attempt in the last 12 months. The American Foundation for Suicide Prevention indicates death by suicide rates for those aged 15 to 24 increased from 11.1% to 14.46% from 2013 to 2017.
In 2017, 47,173 Americans took their own lives and 1,400,000 attempted death by suicide based on available records. Suicide is ranked as the tenth leading cause of death in the United States. The National Institute of Mental Health and the Centers of Disease Control and Prevention (CDC) cite that in 2017,
There were more than twice as many suicides (47,173) in the United States as there were homicides (19,510)."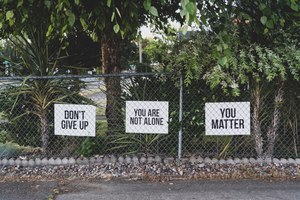 While millennials are often unfairly stigmatized as "snowflakes," they are reacting to bullying, social media cruelty and an unsure future by infusing humor into suicide discussions as a coping mechanism. Instead of facing mental illness head on and looking deeply inside at their own insecurities, humor about suicide provides a community of like-minded peers for them.
Despite coping mechanisms, the two main reasons for suicidal thoughts are when people feel they do not belong no matter how much effort they exert, or think they are a burden on others.
According to Mental Health First Aid USA, there are several suicide warning indicators:
Threats of self-harm
Hopelessness
Searching for ways to kill themselves
Social media, writing or talking about suicide
Anger
Risky behaviors
Feeling there are no solutions to their problems
Increased substance abuse
Withdrawal
Poor sleep
Anxiety
Sudden mood swings
Lack of purpose in life
Suicide Prevention Grants and Resources
Effective suicide prevention programs will focus on promoting mental health, self-efficacy, interpersonal problem solving, self-esteem and social support. Kognito provides resources state by state to help stem the rising incidence of death by suicide in America. Also, Art with Heart is an example of a nonprofit awarded funding from the American Legion Child Welfare Foundation.
Robert Wood Johnson Foundation: The Pioneering Ideas and a Culture of Health funding proposal opportunity provides possible project opportunities for improving the way mental health issues are addressed.
Dominion Energy Charitable Foundation: This is a short application focused on mental health services and other important community needs in certain states served by the company.
William J. & Dorothy K. O'Neill Foundation: Focus areas include making families stronger, health and well-being, education and homelessness.
RBC Foundation Grants - National Program (Outside the Minneapolis/St. Paul Metropolitan Area): This foundation prioritizes youth projects (ages 15-29), health and emphasizes the RBC Children's Mental Health Project for children and youth aged 0-18. Funding will provide resources for activities such as training, raising awareness and reducing mental health stigmas.
Ittleson Foundation: This foundation chooses different priority areas each year: mental health, AIDS and the environment. In 2019, the focus was on the environment. 2018 funded grants for mental health included addressing PTSD and mental illness in incarcerated individuals, trauma-informed care for children, helping millennials handle grief/loss, social/emotional skills of teachers to support students and other mental health services.
Allergan - Alliance Support Grant: Allergan supports "therapeutically aligned non-profit organizations" with awareness/advocacy, corporate membership, fundraising events and non-medical education meetings. They also offer charitable donations to organizations who are not therapeutically aligned.
American Legion Child Welfare Foundation: Funding supports the mental, physical, emotional and spiritual welfare of children and youth.
Bank of America Philanthropic Solutions: Available mental health and crisis intervention grants include the Harold Brooks Foundation, Lavina Parker Trust, Leola Osborn Trust and Perpetual Benevolent Fund.
Jacob and Hilda Blaustein Foundation: This foundation focuses on Baltimore in the areas of mental health services for low-income children and seniors.
The Rosenberg Fund for Children: The Rosenberg Fund supports children of targeted activist, progressive parents or youth who are activists themselves. Parents, guardians or custodians can apply to fund counseling, tuition, after school programs and other needs for children and youth. The four grant programs are: Regular Granting, Carry it Forward Awards, Development Grants for Targeted Activist Youth and the Attica Fund Prison Visit Program.
Scotiabank Corporate Giving Program: This corporate funding supports youth programs through "improving mental health and fostering the development of positive behaviors and providing resources and support to families."
Superstar Foundation - Veronica Awards: Applicants nominate a direct service worker in areas such as behavioral and mental health. Awards are up to $5,000.
The van Ameringen Foundation: This foundation's main geographic focus is metropolitan New York City and Philadelphia in the area of mental health services.
Harry and Jeanette Weinberg Foundation: Geographic focus includes the United States and Israel, with emphasis on Baltimore; Chicago, New York City, San Francisco; the state of Hawaii and he northeastern Pennsylvania region. Grant areas include mental health therapy for veterans and healthcare access for children, adults and families. One specific focus is "behavioral health programs that increase access to care through the construction of new facilities as well as operating support that leverages billing revenue."