Why agencies need robust text messaging policies: A cautionary tale
The mistaken belief that text messages are private can damage community relationships, and lead to litigation or fines; protect your staff with text message training and message archiving
---

It should no longer come as a surprise that what government officials communicate via text message — or any other electronic medium — is ultimately a matter of public record, as long as the information pertains to government business.
Case in point: When Ambassador Bill Taylor texted to his colleague, Gordon Sondland, "I think it's crazy to withhold security assistance for help with a political campaign," he likely never imagined that this exchange would become central to a future presidential impeachment inquiry.
And, this isn't just a concern for high profile federal officials. As our communication methods have become increasingly digital, most states have adapted local sunshine laws to include these exchanges.
Recently, Texas became the latest state to officially clarify this in its own open records statute, though, as the Texas State Library and Archives Commission explained in a recent blog post, this was largely a formality.
"The Office of the Attorney General and courts have ruled for years that records held on private devices or in private accounts of officers or employees are still records and are subject to records management and public information laws," they wrote.
Public Personal Texts
This lack of explicitness has tripped up more than a few local government officials over the years, who mistakenly believed work-related texts with colleagues on personal devices were exactly that – personal.
As the Charlotte Observer reported back in 2017, Mooresville, North Carolina, Commissioner David Coble and Mayor Mike Atkins found themselves in the not-so-comfortable position of having to publicly apologize for a series of unflattering text messages aimed at community members after a public records request was made.
Loud mouths that don't even live in Mooresville pitching a fit," Coble vented to the mayor, frustrated by neighboring homeowners' heated opposition to a proposed development.
In another exchange, Coble mentioned a community member threatening legal action over the project, to which Mayor Atkins responds with a crying cat emoji.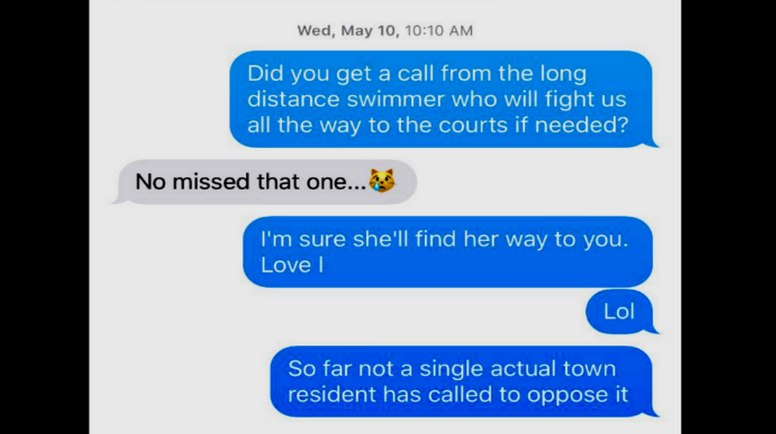 For Arielle Emmett, one of the homeowners concerned about the development's impact on area traffic and the environment, the messages were disheartening because they showed how little officials cared for the opinions of neighboring communities, who would also be affected, she told the Charlotte Observer.
Costly Mistakes
A damaged relationship with the community isn't the only potential repercussion of disclosing communications; some text messaging mistakes can get downright expensive, as Orange County, Florida, found out the hard way.
When an advocacy group discovered that Mayor Teresa Jacobs and four county commissioners were exchanging text messages with local tourism lobbyists during a meeting concerning a paid-sick-time referendum opposed by the industry, they filed a public records request, only to learn that those messages had been quickly deleted.
The group, Citizens for Greater Orange County, subsequently filed a lawsuit — which came to be known as the "textgate" suit — and ultimately earned a $90,000 settlement after the local prosecutor concluded the officials had violated public record laws, albeit unintentionally.
As the Miami Herald reported, "commissioners each paid a $500 civil fine, including Jennifer Thompson, who had texted with a Walt Disney World lobbyist 32 times on the day of the sick-time vote."
3 Text-Messaging Tips for Public Officials
While many officials have chosen to simply stop communicating via text message all together in the wake of such stories, this doesn't need to be a zero-sum game.
Officials can still have the convenience of electronic messaging, as long as they're doing it responsibly. What follows are some tips to simplify the process.
#1 Don't text anything you wouldn't want your boss, colleagues or community members to read.
And remember, "if it's the state's business in an email, a letter or a memo, it is also the state's business in a text message, Facebook post or Tweet," as North Carolina Attorney General Josh Stein explained in his introduction to the state's recently updated Open Government Guide.
#2 Make sure everyone in your agency is on the same page regarding how long messages must be preserved.
In general, states have different requirements for different types of messages, so make sure you've done your due diligence and trained others accordingly.
#3 Consider using an electronic message archiving service.
Rather than being responsible for manually downloading each and every relevant text exchange, local governments can sign up for services that will do this automatically.
Request product info from top Technology companies
Thank You!