What to Expect From the Housing Market in 2017
Get a list of the top 10 markets to watch and find out how the 2016 election could affect the 2017 housing outlook.
---
The housing experts at Trulia have released their 2017 housing outlook, including the 10 markets poised for growth.
Overall, Trulia found that:
Rising mortgage rates will cool home buying in California and the Northeast, where the costs differences between renting and buying are slimmest
House price growth in bargain areas in the Midwest and South will catch up
Low inventory will bottom out
Trulia also found that political affiliations and attitudes following the 2016 election will affect some region's housing growth in 2017.
Party Affiliations May Shape Markets
Part of Trulia's 2017 housing outlook research included measuring pre- and post-election perceptions using Harris Polls online surveys. Housing hopes and fears result in housing trends, so Trulia wanted to gauge perceptions from before the 2016 election (surveys conducted between Oct. 26-28) and compare them to perceptions after the election (surveys conducted Nov. 15-17).
Trulia found that the recent election significantly affected consumers' perceptions about the ability to purchase a home in 2017.
Republicans have moved from being bearish on the housing market before the election to outright bullish afterwards," wrote Ralph McLaughlin, Trulia's chief economist.
The survey data showed that Republicans went from being pessimistic about buying a home before the election to optimism for it by a full 26 points, while Democrats optimism for home ownership fell 23 points with the election results.
Once all the measures were taken, Democrats were only optimistic about selling a home in 2017, according to Trulia.
After looking at metros with the largest and fewest share of votes for President-Elect Donald Trump, Republican enthusiasm may "help close regional differences in house price appreciation because of the stark geographic divide in where Republicans and Democrats actually live," wrote McLaughlin.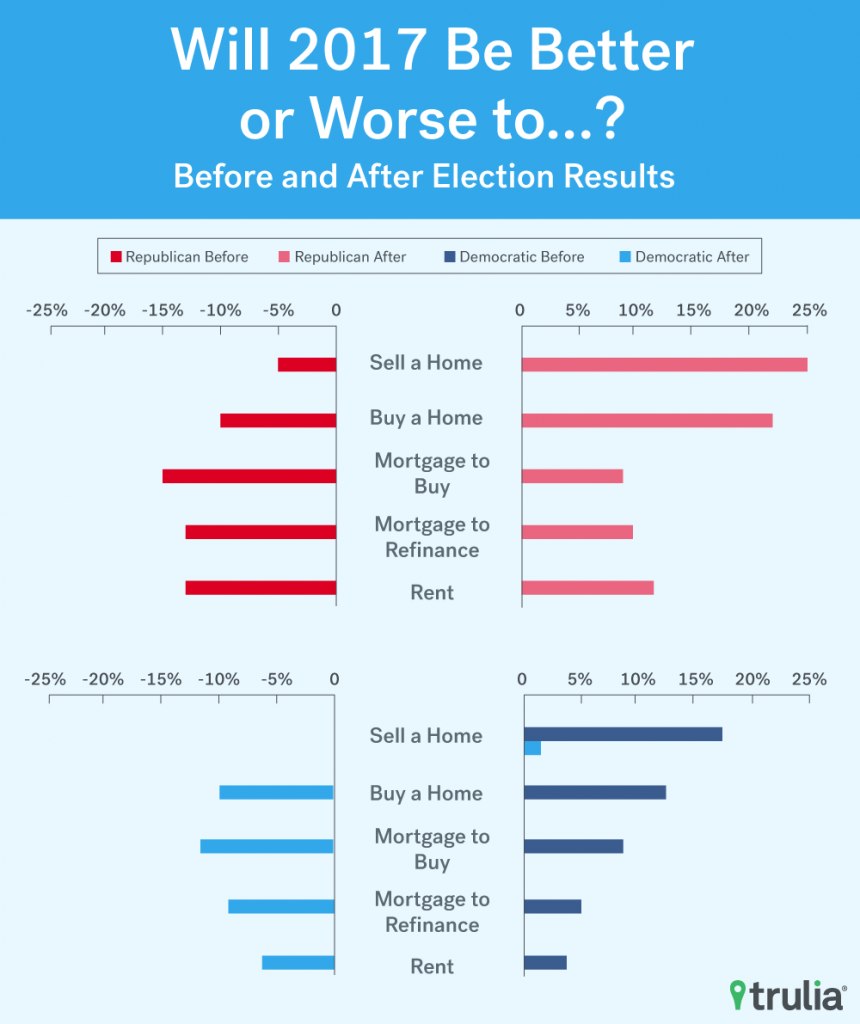 Personal Savings & Market Supply
Trulia's 2017 housing outlook indicates that the hardest hit group is millennials -- those age 18 - 34 years old. Their dreams of buying a home fell for the first time in five years. Just 72 percent -- from 80 percent surveyed in November 2015 -- said that buying a home was part of their dream.
But for 59 percent of all potential homebuyers, their number one concern is saving for a down payment.
In addition to liquidity, supply is also a factor affecting housing market growth. Trulia, however, is expecting inventory to pick up in 2017.
In some areas, homebuilders are ramping up supplies. Housing starts in October were up 25 percent year-over-year. And higher home prices and income growth helps existing homeowners sell and then purchase larger homes.
2017 Housing Markets to Watch
Trulia predicts growth in the following markets because they exhibit strength in five key areas: jobs growth in 2016, low vacancy rates, high affordability, more inbound home searches than outbound, and a large share of Republican voters.
Jacksonville, Fla.
Cape Coral – Fort Myers, Fla.
Deltona-Daytona Beach-Ormond Beach, Fla.
Grand Rapids, Mich.
Tampa-St. Petersburg, Fla.
Colorado Springs, Colo.
Charleston, S.C.
San Antonio, Texas
Phoenix, Ariz.
North Port-Sarasota-Bradenton, Fla.